Own Savekey, own smart home
2011-06-15
SAVEKEY is committed to providing high-quality smart homes for improving the comfort of human life, and constantly exploring and pursuing a perfect life experience.
In the eyes of the people, smart home is a luxury, not a necessity. Without a smart home, life will not be affected. Now this concept is outdated. With the continuous development of the times and economy, the further improvement of information technology and network technology, the smart home industry is an emerging industry and a high-tech industry, while smart home represents a part of social development. This trend, the world advocates low-carbon, energy-saving, green and environmentally friendly life, smart home can enjoy a convenient and comfortable life.
At present, the development of my country's home appliance networking technology is still in its infancy, but its development trend is obvious to all. As the first attempt of "Four Modernizations, Smart Foshan", smart homes will collectively make efforts.
Savekey smart home completely abandons the cumbersome traditional switch panel, and can easily control the lights, curtains, air-conditioning floor heating, dimming control, scene switch and main switch functions in the home through the intelligent touch screen. The system has excellent functions and extraordinary quality, and the products comply with various international standards. It is the most functional and flexible smart home system in the world.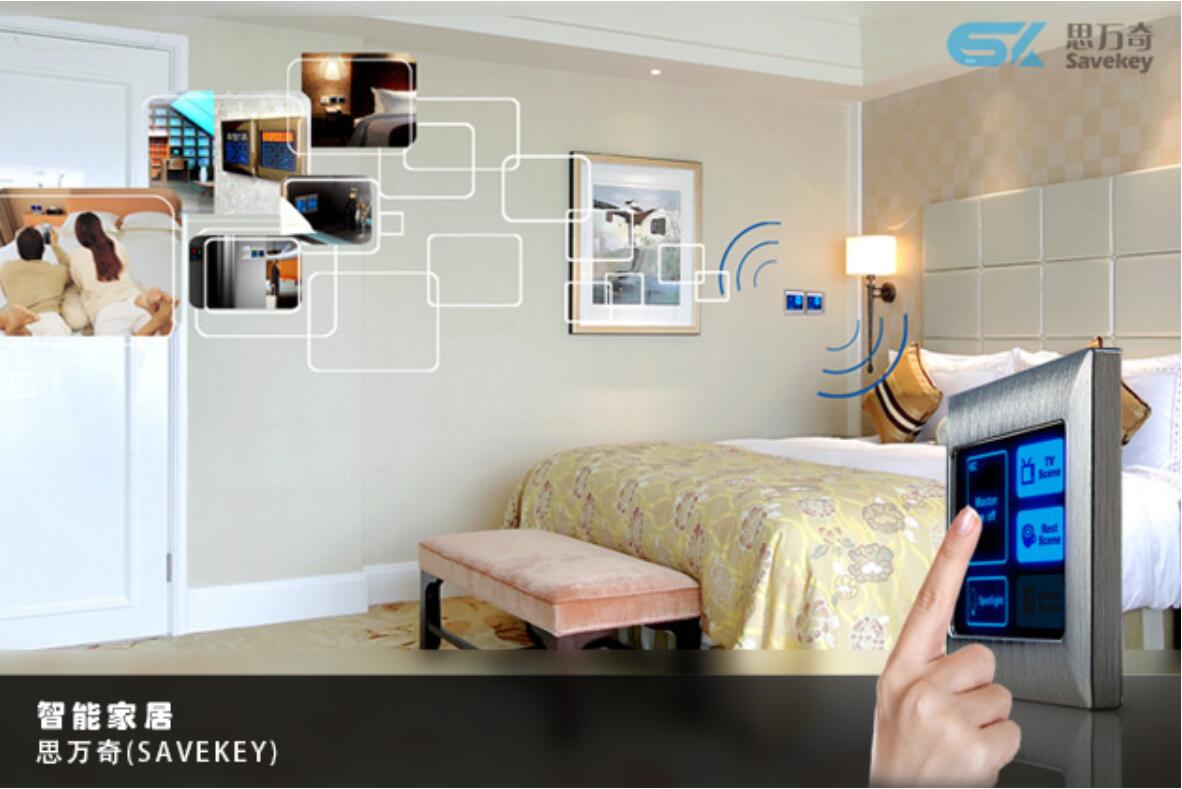 asy to use
The super simple smart home system allows you to live a relaxed and comfortable mansion life. After installing this system, you can control any lights and electrical equipment in your home through any smart panel. Its convenience and comfort naturally bring out the calmness and self-confidence of the owner. When relatives and friends visit here, most of their minds have changed from surprise to peace, and they are greatly appreciated!
Exquisite fashion
The elegant smart panel and exquisite touch screen can easily combine many standard switches into one controller, thus making the wall look clean and elegant. It is rich in texture, full of luxurious appearance expression, superb and exquisite appearance processing skills, to help you realize your ideas for top-quality luxury houses.
Infrared remote control
The infrared remote control can freely set the switch of the device, and can control various electrical equipment in the home after setting. The intelligent and human technology system shows the master's elegance and calmness in controlling the overall situation anytime and anywhere.
Energy-saving design
SAVEKEY uses various sensors to automatically manage energy consumption equipment such as lighting, air conditioning and floor heating in the home. The whole system is an excellent smart home magician, keeping the light and air environment in the home in a good state that is most conducive to the health of the owner, while keeping energy consumption to a minimum.
The smart home market has huge potential. It is not a dream for the future smart home to gradually enter thousands of households. Let you feel the charm of life brought by smart lighting anytime, anywhere at home.